DAC in Ärvinge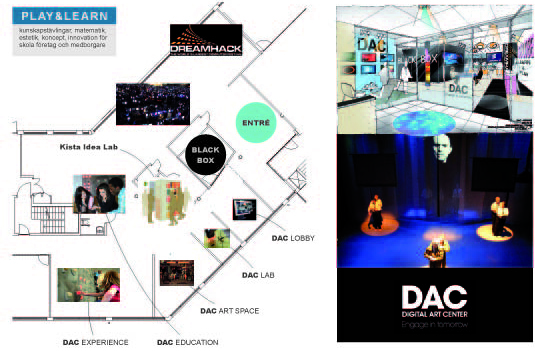 During the preliminary study for DAC we work from a physical demonstration surface with aim towards the definite Digital Art Center, right in the heart of Kista Science City.
Kista Science City is a ICT – and innovation cluster in world class ! Digital Art Center contributes to making it full of experience, innovative and growing. During the upstart of DAC we have established a pilot in Ärvinge in Kista as a part of the project to be able to, in depth, root DAC in Kista Science City. Here we have gathered friends who share our vision of tying together academy, research and industry from a artistic and creative perspective.
The first exhibition went from the theme "play & learn", about thirty companies, organizations and artists are present at DAC to show their support for the project. Already now the benefit of DAC is obvious when these exhibitors meet eachother and create new contacts with the groups that pass through DAC. Read more about them under the tab "Exhibitions". Already in the preliminary study we noticed that DAC has generated the effects that we hoped for. A number of events have taken place, learn more about them under the tab "Events".
On Kronborgsgränd 13 in Ärvinge you can also find Dreamhack and the CityLibrary in the form of Kista Idea Lab. Together we work towards creating a unique context with a view towards a vision about how Kista should evolve.
Kista Idea Lab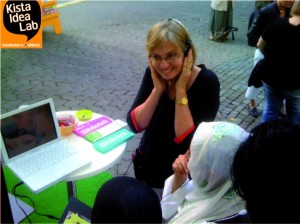 Kista Idea Lab – is Stockholms City Librariy´s effort towards mobile libraryinnovation, learning and participantculture in the multitechnological and multilanguaged Kista. Together with the citizens and international participants within the library-, media- and technological fields there is being created the vision of the futures physical and digital participantlibrary.
Dreamhack
Dreamhack Zone – Dreamhack  which has created the world' s largest digital festival is now creating a new permanent venue for training, education, knowledgecompetitions, e-sport, companies, schools, educationalists with a concept, math, visualization, playful and accidental learning is some of the concepts that will be evolved together with educationalists and researchers.
NOD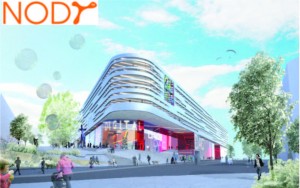 NOD "is a unique place where today´s digital worlds meet business, people, culture and learning"
This is the headline for the block and meeting place that is to be evolved and built by Atrium Ljungberg at Kista Gård. A whole new concept with the aim to contribute to innovation and growth.