Event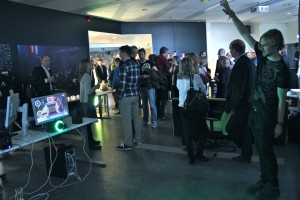 Celebrating DAC's first year on May 5th DAC turned one year old on May 5th and to celebrate that a party was held in Ärvinge where an incredible atmosphere between guests, exhibitors and speakers filled our local to the brink. We started the day early by having a breakfast meeting with Kista Socials, which was broadcast live via livestream from DAC. Lively discussions between Joakim Jardenberg, founder and CEO of Mindpark and other early risers from Kista Socials can be viewed here . A lot has happened during this first year; through some 30 events, workshops, meeting and open house every week DAC has had almost 5.000 visitors. Without a doubt an impressive fact that speaks volumes for the positive response. An observation made at DAC is that it doesn't matter who you are, what competence or background you have; a spark of playfullness and curiosity is evoked.
One of the nights speakers was Stockholm City Deputy Mayor for Enterprise, Traffic and Labour Market Ulla Hamilton. She spoke of the importance of DAC as a venue and meeting ground for the previously seperated branches of art and technology.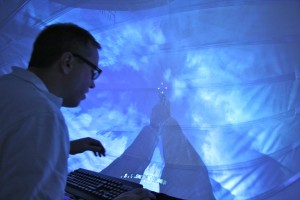 About 200 guests came to listen to the speakers, mingle and enjoy the interesting exhibitions current at DAC.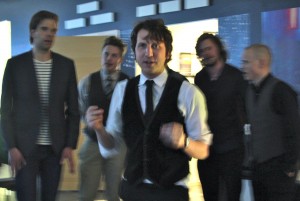 Musical entertainment was provided for by Vokalorkester, their active crowdfunding-site can be found at Funded By Me. Kistas very own dance-school Stepz performed also with an impressive show where robots among others gave a tribute to DAC. More pictures from the evening can be seen on Flickr as well as from Kista Science City Flickr.
Welcome to DAC – Digital Art Center in Kista and the exhibition Firmament
18.00 – 22.00 Monday 25 oktober
9.00 – 18.00 tuesday 26/10 to Friday 29/10
Ottawa is a creative city that emphasizes that collaboration, reflection and dialogue are powerful tools for development. The collaborations between creative and digital sectors can engage in everything from youth activity, media, culture, education and health. Such that will lead to meaningful innovation. But innovation can be an illusive dream. The next radical change always seems to be just beyond the horizon.
As many of todays contemporary technical innovations, the projects in the exhibition "Firmament" seem to be immaterial. The works gain their strength from phenomenons that are beyond the physically tangible although they are present and evident. James Acres works with the illusion of pulling space in through retro-futuristic anaglyph glasses, Eric Chans abstract forms are controlled by meteorological phenomenons that can not be observed with the naked eye, Nichola Feldman-Kiss presents a perfect bodyscan that imperceptibly rotates and finally Göllner embodies the idea of chance by abstracting our superstition. In spite of the difference in contents these works are linked together like the stars in the sky – a string of future creative expressions.
DAC – Digital Art Center, is the takeoff in a long term commitment that in the years to come will be a full scale digital competence center in the new block NOD, Kista Science City – for, by and with researchers, artists, creators, students, the public and business sector in a partnership. The task for DAC is to highlight the collaboration between art, science, creativity and new technology as a prioritized field of the future.
________________________________________________________
DAC was filled with innovative sollutions at the "Challenges of the East seas" on September 14th
During the first week of september the eyes of the world gaze towards Linz Austria, when art, technology and visions for the future meet at Ars Electronica Festival. Emma Crépin, coordinator Digital Art Center (DAC) in Kista was there.
"In a closed tobacco factory with a space of almost 80 000 kvm the festival had put up loads of exhibitions, workshops and art-installations. I really got the feeling that this is one of the world´s most important and largest festivals for Interactive Art and Digital Media.
This year Ars Electronica is arranged with the theme of Repair, a theme where art together with technology gets us to engage in and handle the crisis of the future. Repair focuses on the positive. Instead of visualizing dark scenarios of the future Repair focuses on solutions and a feeling for how we want to live in collaboration with the technology we ourselves created.
During the festival the winners of the competition Prix Ars Electronica are announced. The competition had almost 3.300 contributions from all around the world and is the center of the festival. The winners will get to show their contribution at Linz. Some distinctions in the category Digital Communities worth a mention can be seen here: http://en.TEDtoChina.com/
to see the rest of the contributions :
http://www.aec.at/festival_about_en.php
//Emma Crépin, coordinator DAC
________________________________________________________
Headmasters academy May 20th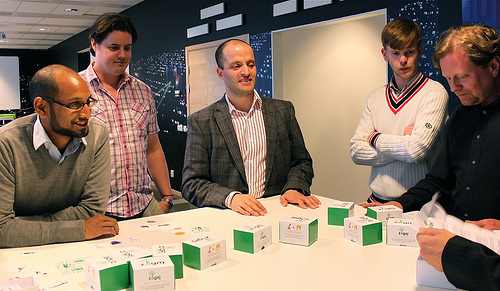 A concrete way to learn in a digital environment where focus is held on creating. This is how Digital Art Center defines "the other classroom" witch is to work as a complement to the conventional formation of a classroom. In order to further explore the possibilities of learning in a digital environment DAC and the Headmasters Academy rounded up 60 representatives from both the educational as well as business fields to DAC to try out some activities connected to learning.
A number of participants were at DAC to show the opportunities for learning in a digital environment. To name an example Dream Arena touched on the subject of the educational value of working with computer games as a part of teaching. Those present got to try out sowing clothes simultaneously creating music and focusing on not thinking in order to defeat your opponent.
The interest was huge and a number of people signed up to return and have educations at DAC.
________________________________________________________
The final-exhibition of the Multimediaprogram at the University of Stockholm, 2-3 june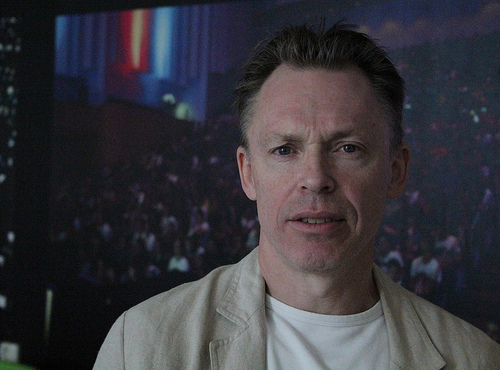 The students from the Multimediaprogram at DSV (Department of Computer and Systems Sciences) exhibited their examination work at DAC. A number of interesting digital service products were shown, among them the "Platta", that allows the seeing impaired to read websites with their hands. The exhibition attracted a crowd to DAC, people who came to be inspired and learn more about the educational possibilities in Kista.
Another digital service shown at the exhibition was minlokal.se which gives information about various physical access; everything from parking to space to park your stroller or wheelchair. The service product can be used with a computer or mobile to search for, give credit to or comment. The product was shown by Camilla Alexandersson and Johanna Lundh.
The Institution of Education, JMK and DSV at Stockholm university are together in the fall starting a brand new course. Digital Media will teach you to analyze, handle, design and produce today´s and tomorrow´s digital and interactive media. The course is interdisciplinary and combines data- and systems sciences with both education and media- andcommunications sciences.
________________________________________________________
Grand opening of DAC 5 maj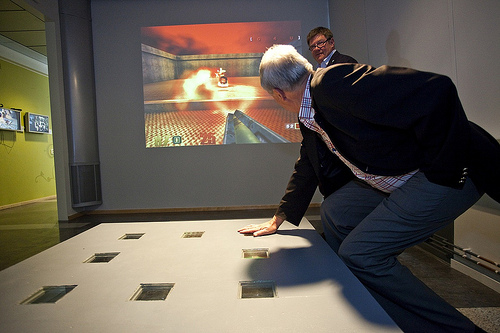 A crowd gathered in Kista when the Departement for data- and systems sciences (DSV) at Stockholm University inaugurated its new center – Digital Art Center (DAC). Inauguration speakers were Anette Scheibe, director of Kista Science City and Kaj Steveman, creative director at Fido film, one of DAC's collaborators. The guests were welcomed by Ingvar Sjöberg, DAC´s artistic leader and manager. The 200 guests enjoyed both food and drinks, live entertaining and a number of spectacular experiences. For example they could challenge each other or oneself in Brainball, create music by legos, grow digital flowers on the wall or though the power of their minds mix their own drinks in BrainBar. The world´s first computer game, a missile game developed by SAAB's computer D2, by Göran K Sundquist was also available to try out. More pictures on Flickr ________________________________________________________ Alphaform presentation 21 april

On april 21 Alphaform had a seminar with the theme "How you increase effectivity in productmaking with the help of freeform technique". At the seminar Ingvar Sjöberg and Peter Johansson introduced the DAC project and NOD block for those present. Parallel with the seminar there was a small exhibition of prototypes that had been created though 3D printer.  Participants got a chance to view and try out the different installations found at DAC. The participants represented organizations such as Antenna Solutions AB, Powerwave Technologies, Perimed AB, Flir Systems, Ergonomidesign, Scania CV AB,  Q-Med AB, AB Electrolux, SHL Group AB, HotSwap AB ________________________________________________________ Videoblogging from Shanghai Workshop in Digital narrative along with the Stockholm City Culture School. During two days in april 9 students from five schools in Stockholm gathered at DAC to prepare themselves for participation in the World Expo in Shanghai. The students were chosen to represent the schools of Stockholm during a week in Shanghai and document their experiences in a videoblogg. The results can be found at: http://vimeo.com/12420039